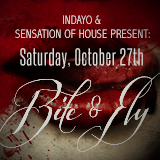 Bite & Fly Saturday at Kiss & Fly!
Date:

Time:

9pm to 4am

Venue:

Address:

409 West 13th Street Manhattan, NY 10014

Show Map
BUY TICKET
EVENT DESCRIPTION
Kiss and Fly's prime location in the Meatpacking district is what fills it up with celebrities and beautiful people. The excellent house music and beautiful décor is what keeps the champagne flowing. Get your costume on to be a part of this trendy Halloween extravaganza, Saturday 10/27! Special Guest DJs to be announced.
VENUE INFORMATIONS
VENUE LOCATION
409 West 13th Street Manhattan, NY 10014
VISIT WEBSITE >