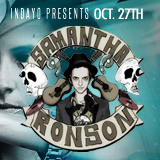 A UFO Abduction w/ Ronson!
Date:

Time:

9pm to 4am

Venue:

Address:

330 West 40th Street New York, NY 10018

Show Map
BUY TICKET
EVENT DESCRIPTION
Sky Room is the highest roof top lounge in NYC, and conveniently located in the heart of Times Square. Celebrity guest DJ, Samantha Ronson, will be playing all of your favorites this Halloween. If you haven't heard her spin before, trust us when we say she knows how to get a party started! Come dance in your costume on top of the greatest city in the world Saturday, October 27th!
VENUE INFORMATIONS
VENUE LOCATION
330 West 40th Street New York, NY 10018
VISIT WEBSITE >