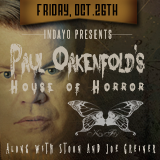 Paul Oakenfold's House of Horror!!!
Date:

Time:

9pm to 4am

Venue:

Address:

409 West 13th Street Manhattan, NY 10014

Show Map
BUY TICKET
EVENT DESCRIPTION
Friday October 26th, Kiss and Fly plays host to Paul Oakenfolds House of Horror!  Yes you guessed it, music by world renowned guest DJ Paul Oakenfold, along with Stoon, spinning a mix of house, electro and trance beats all night long.  This high flying Euro hot spot won't disappoint, and will be the place to kick off your Halloween festivities for the weekend!
VENUE INFORMATIONS
VENUE LOCATION
409 West 13th Street Manhattan, NY 10014
VISIT WEBSITE >